'A Night at the Keck' public talk at Swinburne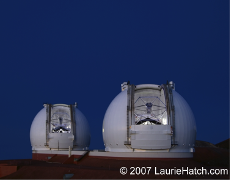 Together with Dr. Jeff Cooke and Mark Durre, I gave a public lecture about why I use the Keck Telescopes in Hawaii and what it's like to observe quasars with them.
This special event on the 18th July 2014 celebrated the achievements Swinburne's astronomers have made with the unprecedented collaboration with Caltech to access the Keck Telescopes. The event formed part of Swinburne's ongoing and highly popular free astronomy public lecture series.
The video capture of the slides and the audio from the three talks can be watched below or watched and downloaded here. My contribution starts at 26m:23s into the recording and runs for about 21mins. The question and answer session at the end of the 3 talks starts at 1h:20m:25s into the recording.