In the movie Contact, actor Jodie Foster is famously seen listening to signals from space through headphones, in the hope of catching communications from aliens. The scene highlights how good the ear and the brain are at picking out an important signal from background clutter.
It turns out that this technique isn't all dramatic licence, as early searches for pulsars in the decade after their discovery could have been performed by hooking the radio telescope signals up to an audio amplifier to listen for signals — the faster pulsars rotate at a rate of a few tens to a few hundreds of times per second — which is right in the audible frequency range.
Two quite slow pulsars have been converted into audio from data taken at Molonglo — in these two cases, the beat of the pulsar is so slow that each one is heard distinctly, rather than blending together into a continuous note, as faster pulsars do.
The Vela pulsar — beating at about 11 times a second corresponding to the rotation of the neutron star rotating 11 times per second…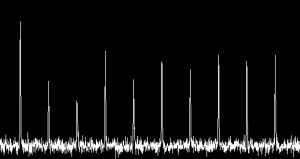 The pulsar J1644-4559 — beating about twice a second, like a fast heartbeat after a run…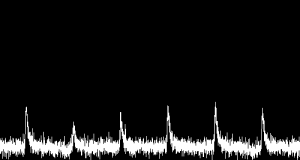 As Molonglo's sensitivity increases with the ongoing commissioning of antennae and receivers, we'll add to the library of audible pulsars…