The Molonglo Observatory Synthesis Telescope (MOST) is a parabolic cylindrical antenna consisting of 88 bays that each comprise of 4 identical modules, for a total of 352 independent antennae. It is owned and operated by the University of Sydney's School of Physics. The modules are arrayed along two arms, aligned East-West, each consisting of a cylindrical paraboloid 11.6 m wide and 778 m long, separated by 15 m gap. Each module is 4.4 m long, and 11.6 m wide. At the focus of the parabola in each module are 22 ring antennae in a line, tuned to a central frequency of 843 MHz, with about 30 MHz bandwidth in the present configuration.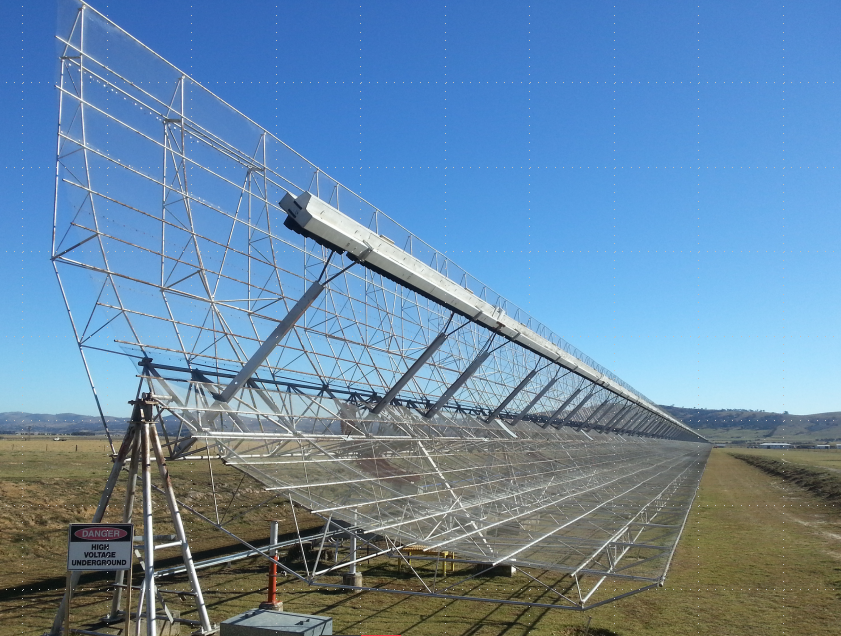 Molonglo tilts its arms North-South. Rotation of the ring antennas (along with additional phase and delay) allows the telescope to point away from the meridian and track a field for up to 12 hours.
The Northern pointing limit is declination +18 degrees, and the Southern limit at declination -90 degrees.
No. of ring antennae  7744
Number of modules  352
Centre frequency 843 MHz
Bandwidth 30 MHz
Number of baselines 61776
Field of view ~8 square degrees (on the meridian)
FWHP North-South ~2 degrees (on the meridian)
FWHP East-West ~4 degrees
Collecting area ~18,000 square metres
Polarisation  Right circularly polarised
Link to : image Galleries of the MOST