The Diamond Planet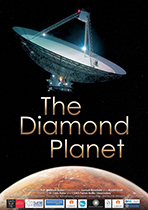 A stereoscopic film detailing the discovery of 'The Diamond Planet'.

Narrated by lead CAASTRO astrophysicist Prof. Matthew Bailes, 'The Diamond Planet' outlines the cutting edge science behind the CSIRO 64m Parkes radio telescope and its Multibeam Receiver.

The production contains Stereographic 3D footage from the Parkes Radio Telescope facility, accompanied by CGI visualisations describing the scientific discovery.

Screenshots

Title
The Diamond Planet
Format
3D 1920×1080
Duration
4 minutes 42 seconds
Produced by
Samuel Moorfield and Russell Scott
Thanks to
Dr. Chris Fluke and

CSIRO

Parkes Radio Observatory
Narration
Prof. Matthew Bailes
Language(s)
English
Copyright
© Swinburne Centre for Astrophysics and Supercomputing, 2013