3rd June 2015 The tower extension which is part of the ongoing UTMOST high-speed data link upgrade has been installed at Sutton West, and a 1 meter microwave dish and associated gear have been mounted to it.  Minor bracing and site/tower clean up will take place over the next few days. Mark Donnelly is seen bracing temperatures which were subzero with windchill for much of the time!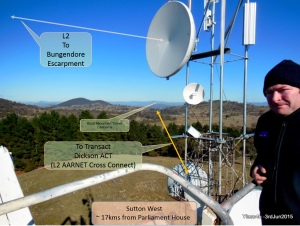 Activation and commencement of the new link, which will give us 150 Mb/s data rates in and out, is expected in early July.
Image courtesy of Anthony Goonan, YLess4U.