The Last Word
Galaxies I have gnome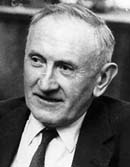 Fritz Zwicky. The name of this astronomer will garner quite different responses depending on who you talk to. Fritz had a wide ranging insight into the Universe, and has been proved correct on a number of his predictions. Upon reading a few articles and press releases of late it appears that even some 33 years after his death his influence on astronomy is still potent. Indeed specific nomenclature that only Fritz had championed up until the 1970's has now started to reach mainstream astronomy. From an October 4, 2007,
press release
that discusses new observations of a gravitational lens system I quote David Koo, professor of astronomy and astrophysics at UCSC:
"This gives us a glimpse of an ancient pygmy galaxy like those that may have built up our home galaxy, the Milky Way."
As well, in the
astro-ph e-print
(accepted in Astronomical Journal) by Karachentsev and Kaisin, I quote:
"Apparently, the potential well in these pygmy galaxies is so shallow that it is unable to hold ionized gas".
Pygmy galaxies? Over the past 10 years or so a dramatic increase in galaxy studies has occured in the low luminosity versions. Such galaxies are easily the most abundant in the Universe and could well be the least understood. In the literature these have been called dwarf galaxies, and sub-classified into dwarf spheroidal, dwarf irregular, dwarf elliptical and compact galaxies. Fritz discussed not only dwarf galaxies, but further extended the mass range down to "pygmy" and even "gnome" galaxies. Astronomers (as you can see above) are now describing "pygmy" galaxies, and I look forward to the first journal paper describing "gnome" galaxies too! The "Last Word" column is compiled by Dr Glen Mackie.