Venue &amp Accommodation
Venue
The 4th Australian Exoplanet Workshop will be hosted at the USQ Toowoomba campus at West Street (near the corner of Baker Street), Toowoomba in the Phoenix building (Q block), rooms Q501+Q502 (fifth floor).
The city of Toowoomba has population of around 130,000 and its location on the Great Dividing Range and the local climate, soils and facilities make it a garden city with a pleasant environment for visitors. Features of the city include Queens Park and other public gardens, Picnic Point lookout, golf courses, and some stately Queenslander homes on Campbell Street.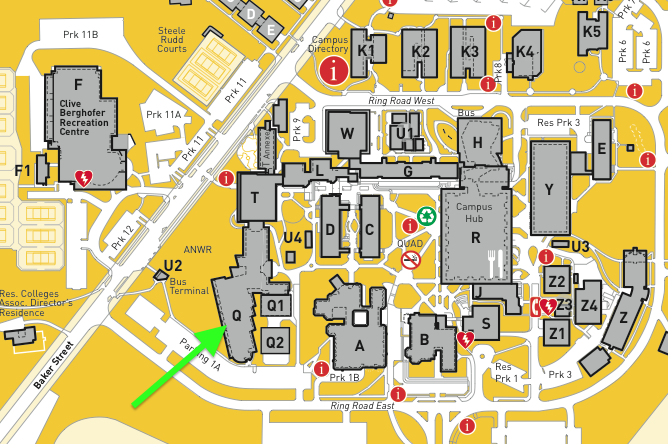 (click to enlarge map or visit USQ Maps & Directions)
Getting to Toowoomba
Toowoomba is about 125 km (or 2 hours drive) west of Bribane. The typical and generally recommended way for interstate travellers is to get to USQ Toowoomba is to fly to Brisbane Airport and use the door-to-door
Airport Flyer
minibus service from Brisbane Airport to Toowoomba (~$160 return). The service time can vary so allow between 2 and 3 hours for the minibus journey. For those preferring air travel only there, are very limited but direct
Skytrans Airlines
flights from Sydney (~$340 return) and Brisbane (~$280 return) to the Toowoomba Aerodrome, which is located 4km from the CBD and serviced by taxis. The cheapest option to get from Brisbane Airport to Toowoomba is to take the
Greyhound Bus Service
(~$80 to $100 return, depending on the time) and allow up to 3 hours travel time. However while the Greyhound bus terminal in Toowoomba is centrally located it is too far to walk with luggage to most motels or USQ, and although taxis aee handy, the local bus service is infrequent. There is also an
Airtrain
rail service from Brisbane Airport to Roma Street station in central Brisbane (~$28 return) where it is possible to catch the Greyhound bus service to Toowoomba. Unfortunately there is no regular passenger rail service to Toowoomba. Given that USQ Toowoomba is a few hours by road from Brisbane, interstate travellers are recommended to arrive on Monday 24 November, the day before the commencement of the Workshop on Tuesday morning, and to spend a few days in town. An informal welcome in the form of drinks at the Uni bar will be held on the Monday evening, a public lecture will be given by Dr Jonti Horner on the evening of Wed 26th November, and a free tour to Mt Kent Observatory will be provided on Thu 27th Nov, the day after the Workshop. For those who may wish to combine their Workshop travel with some sightseeing or other independent journeys, Brisbane Airport has the usual set of car rental companies (Avis, Budget, Europcar, Hertz, Redspot and Thrifty). Note that the main highway between Brisbane and Toowoomba has some roadworks that are expected to continue until November and may cause generally short delays.
STOP PRESS!!
Qantas has just annouced that it will commence flights from Sydney to the new Toowoomba "Brisbane West Welcamp" airpost starting November 2014. Visit the
Qantas website
for details. It is appreciated that students are looking for low-cost ways to attended the Workshop. For budget travellers it is noted that Toowoomba is serviced by long-haul bus routes, and motels such as Jeffrey's Motel offer budget rooms with twin-stay options. Students might also be able to find short term accommodation at USQ College. While there are no funds available to offer a general student subsidy, students facing exceptional financial hardship can contact the organisers in case a modest subsidy can be provided.
Getting to USQ Toowoomba
The USQ Toowoomba campus is located about 6 km southwest of the Toowoomba city centre, is serviced by local bus services (route numbers 1, 4, 5 and 6), and is a short taxi ride from the city centre and motels on Ruthven Street on the southern side of Toowoomba.
Accommodation Options
(Note that the following may apply a discount if USQ is mentioned when making a booking.)
You could also try wotif.com

Last Updated: Nov 20 2014