Circumbinary Disk Dynamics
NOTE: these animations will be slow to load the first time, but will subsequently run faster
These animations show the results of an SPH simulation of a circumbinary disk. The simulations starts with a full disk with two stars (a binary) embedded in it. The tidal influence of the binary clears a gap around the stars, resulting in a circumbinary disk.
The following animation demonstrates disk clearing: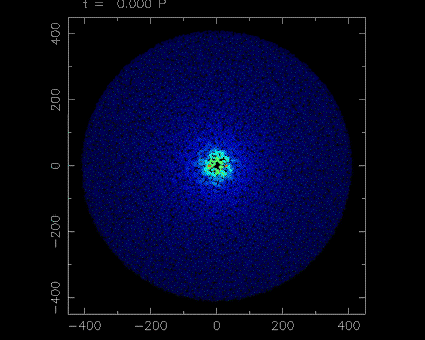 If we follow the evolution a little further as the system starts to settle down, we see transient spiral arms or accretion streams feeding from the CB disk to the binary pair.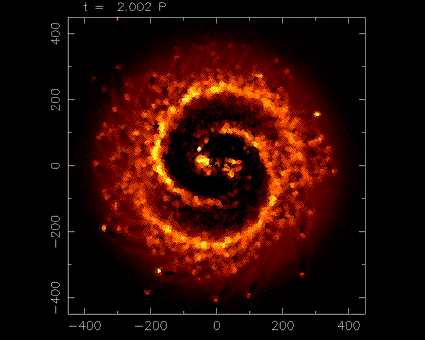 These animations were run with M1 = 0.65 Msun and M2 = 0.5 Msun like the binary system GG Tau. The binary eccentricity and semi-major axis are given by e = 0.25 and a = 67 AU. The disk itself is non-self gravitating in this simulation, though the disk mass of GG Tau is 0.13 Msun, so self-gravity may indeed be important.

Last Updated: 14 June 2000
smaddison@swin.edu.au
Back to Sarah's Research or Home