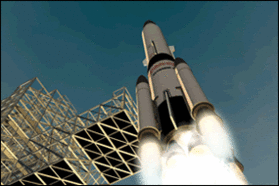 Regional AstroTours 2006-2009
The Centre for Astrophysics and Supercomputing at Swinburne University has a portable Virtual Reality theatre. From 2006-2009 CAS had an AstroTour program that visited regional areas.
The funding grant came from the William Buckland Foundation and we offered a program of regional visits from July 2006 to June 2009.
These William Buckland Foundation sponsored AstroTours have been presented to over 3000 Victorian school students across Years 5 - 11 in regional tours (including Wodonga, Shepparton, Warnambool, Wonthaggi, Mallacoota, Orbost, Cann River, Beechworth, Corryong and Horsham and nearby schools) between December 2006 and April 2009.


The content for the schools was the same as that given to primary and secondary schools in Melbourne, only on a slightly smaller screen.
Regional Tours in 2009
24 March
Mallacoota P-12 College

25 March
Cann River P-12 College
26 March
Orbost Secondary College
28 April
Wodonga Senior Secondary College
29 April
Wodonga Middle College
30 April
Beechworth College