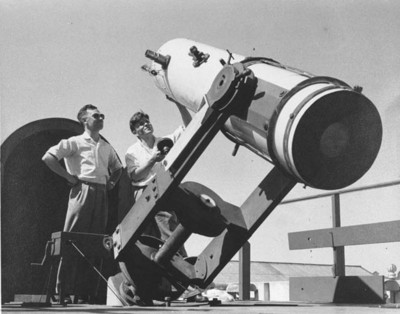 Swinburne Telescopes: Past, Present and Future
20 February 2009
Little is known about Robert Wigmore, the maker of a large reflector telescope once owned by Swinburne University. Built in 1894, and used for astronomy classes at Swinburne in the 1950s, the telescope disappeared in 1960. For over 40 years, its whereabouts remained a mystery. To celebrate the International Year of Astromy, the recently re-discovered Wigmore Telescope returned to Swinburne University for one evening.
Rod Brown, director of the historical section of the Astronomical Society of Victoria, presented an overview of Wigmore's life and his astronomical activities. Parts of the telescope have since been incorporated into a modern, portable reflector telescope which its owner displayed, together with the original cast, mirror cell.
Dr Chris Fluke and Dr Chris Blake from the Centre for Astrophysics & Supercomputing described how modern telescopes, like the twin 10-metre Keck telescopes in Hawaii, and the planned Square Kilometre Array, are changing the way astronomers view the Universe.