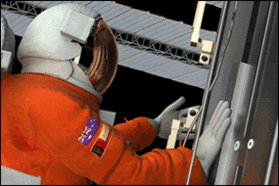 What is an AstroTour?
"As the 3D screen starts up I almost fell off the seat because it feels as if you are in space with these heavenly bodies: stars, planets and even a forming galaxy, all revolving in spectacular detail."
Andrew Stephens, The Age, 10/01/2009
Exploring the planets of our Solar System, deciding the ultimate fate of a star or flying around the galaxies in the local Universe are all possible in a 3D AstroTour from Swinburne University's Centre for Astrophysics and Supercomputing.


Using innovative Virtual Reality technologies developed by the Centre for Astrophysics and Supercomputing, AstroTours are designed to educate and entertain audiences about astronomy. The movies, animations and simulations used to explore the Universe are all produced by Swinburne Astronomy Productions: our in-house team of astronomers, visualisation researchers, animators, artists and programmers.
Each AstroTour is hosted by a professional astronomer who adapts the content to the requirements and learning outcomes of the audience. AstroTours are recommended for audiences aged 7 years or over, and are available for primary and secondary school groups as well as the general public. The Swinburne High Definition VR Theatre has a 55-seat capacity.
Choose your AstroTour
More information
Directions to the Swinburne Virtual Reality Theatre are here.
For all AstroTour enquiries, please send an e-mail to:
Dr Rebecca Allen
E: astrotour@swin.edu.au
Mailing List
To be notified of up-coming public astronomy activities, please join our mailing list.
Support
The Centre gratefully acknowledges the kind support of the State Government of Victoria in helping to establish AstroTour,

DEET

and the Science in Schools Strategy for their continuing support.




Manual
A comprehensive manual for the use of AstroTour, including information and screenshots from our extensive range of astronomy education content is available here.