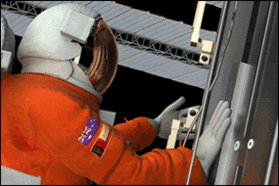 Public Outreach
The Centre is dedicated to inspiring a fascination in the Universe through research and education. A range of public outreach activities link the Centre to the public providing an educational and social benefit. This provides a great way to motivate and interest children in science as a career possibility. Our activities also meet a demand for a growing public interest in astronomy, giving the public a chance to interact with real life astronomers.
To be notified of up-coming public astronomy activities, please join our mailing list.
Click on the activity name in the table below to learn more, including details on how to book for holiday or school AstroTour sessions and public lectures.
Live events
AstroTour
Join one of our AstroTours for a 3D journey through the Solar System and beyond. From planets to pulsars, galaxies to gravitational collapse, tiny meteorites to the largest structures in the Universe ... and everything in between. Our AstroTour guides are professional astronomers who will guide the trip through the universe and answer and questions along the way.


Free Public Astronomy Lectures
Each month, from February to November, the Centre for Astrophysics & Supercomputing will be putting on a free public lecture at the Hawthorn campus of Swinburne University of Technology.


Web resources
Cosmos
Written by professional astronomers for anyone with an interest in astronomy, Cosmos is the Swinburne Astronomy Online Encyclopedia of Astronomy and Astrophysics. Entries highlight key scientific concepts and are enhanced through the use of images and animations.


Keck Observatory
In 2008, Swinburne University of Technology signed an agreement with CalTech in the United States, giving our astronomers unprecedented, guaranteed access to the twin 10 metre Keck Telescopes. Located on top of the dormant volcano, Mauna Kea, in Hawaii, these telescopes will allow Swinburne researchers to work on a range of exciting problems.


Podcasts
Learn more about astronomy from the astronomers themselves. Download our podcasts from Swinburne on iTunes U.


Astronomical Tourist
While most of us will never get to directly explore the solar system and beyond, there are many locations on Earth that put us in touch with the people who made some of the most profound discoveries about the Universe. You might find a very different destination to visit on your next holiday.
Victorian Schools
School Events
Our astronomers are occasionally able to provide additional special activities for Victorian school students, such as hosting work experience placements, giving talks to school groups or participating in the

CSIRO

Scientists in Schools program.