Prof. Alister Graham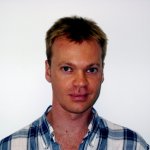 Prof. Graham (Ph.D., ANU, 1998) joined our Centre in November 2006 as a Senior Lecturer, having previously worked in Europe (1998-2001), the USA (2002-2004), and at Mount Stromlo & Siding Spring Observatories (2005-2006). Prof. Graham studies the distribution and motion of stars in galaxies, and the properties of their dark matter halos. He also uses the Hubble Space Telescope to probe their nuclei, and discovered the connection between the concentration of stars in a galaxy and its central super-massive black hole mass.
Prof. Graham is a co-Investigator on the 2006-8 Hubble Space Telescope Treasury Program An ACS Treasury Survey of the Coma cluster of galaxies. The research team consists of 33 astronomers in nine countries.
Prof. Graham is also a member of the Millennium Galaxy Catalog project to accurately measure the properties of 10,000 nearby galaxies using data obtained from over 100 nights of ground-based telescope time.
Prof. Graham is also a member of the Galaxy and Matter Assembly (GAMA) project, for which 100,000 galaxy redshifts will be acquired with the AAT from 2008 to 2010.