Scientific Computing and Visualisation
Introduction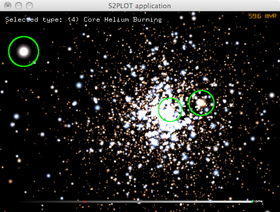 Astronomical datasets are growing at an exponential rate: high performance computing applications in astronomy are enabling complex simulations with many billions of particles, while the forthcoming generation of telescopes will collect data at rates in excess of terabytes per day. This data deluge, both now and into the future, presents some critical challenges for the way astronomers derive new knowledge from their data. The Scientific Computing and Visualisation (SCV) group at Swinburne's Centre for Astrophysics and Supercomputing is working to maximise the scientific return from data with particular emphasis on:
visualisation: the process of turning data into computer-generated images, which can be explored interactively, and analyzed quantitatively;
advanced computing architectures: the application of new computing architectures, such as graphics processing units (GPUs), to accelerate simulation and analysis; and
novel technologies: the use of mobile devices such as smart phones and tablets to explore and/or control the exploration and presentation of data, and the dissemination of interactive visualisations via 3D-PDF, Flash/Flex and

HTML

5 standards.



The Scientific Computing and Visualisation group has contributed to research projects including: WiggleZ and related
galaxy
surveys,
pulsar timing
and searching,
galaxy evolution
and formation simulations,
star
and
planet
formation modelling, gravitational lensing simulations, and the development of software correlators. In 2010, the Centre for
Astrophysics
& Supercomputing was recognised as an
NVIDIA CUDA
Research Centre, due in part to the work we are undertaking on adopting
GPU
s for scientific computing in
astronomy
.
Research
Personnel

News

Jan 2011: New publication by Fluke et al. (2011), Astrophysical Supercomputing with

GPU

s: Critical Decisions for Early Adopters,

PASA,

28, 15 [link]

Nov 2010: Ben Barsdell was awarded the Best Student Presentation award at

ADASS

XX in Boston.

2010: The Centre for Astrophysics & Supercomputing is recognised as an

NVIDIA CUDA

Research Centre.

Dr Christopher Fluke
Faculty
web page
Ben Barsdell
PhD student
web page
Amr Hassan
PhD student
web page
Giorgos Vernardos
PhD student
web page

---

Affiliates
Dr David Barnes
Faculty
Monash University
Prof Matthew Bailes
Faculty
Dr Darren Croton
Faculty
web page
A/Prof Jarrod Hurley
Faculty
web page
Dr Willem van Straten
Faculty
web page
Max Bernyk
PhD student
web page
Paul Coster
PhD student
web page
Juan Madrid
PhD student
web page
Anna Sippel
PhD student
web page

---

Past Members
Nick Bate
Postdoctoral Fellow
Publications

A full publication list is available here.

Facilities

The SCV group makes extensive use of the following facilities and hardware:

Swinburne Green Machine supercomputer

NVIDIA

Tesla units: 1 x

S1070

(4

GPU

s) and 2 x

C1060

(2

GPU

s each)
High Definition Virtual Reality Theatre
Zalman Trimon-3D desktop stereoscopic displays





Gallery