All our tied array beam observations to date have been by taking short amounts of baseband data and post-processing. This limited us to spending at most a few minutes on a pulsar, since the data rates at UTMOST are so high we can only save raw data for this long.
Today (Oct 15, 2014) we got the live beam former and pulsar folding working in real time, obtaining a pulse profile for PSR 0437-4715 and for Vela. The real-time system allows us to follow pulsars for tens of minutes to hours, reduce the rate at which data needs to be stored, and improving our timing measurements significantly.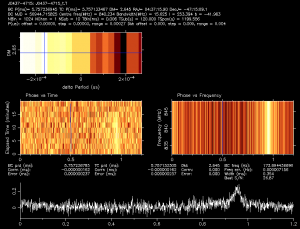 Well done to Andrew Jameson and Vikram Ravi for this significant achievement!