Directions to the Swinburne Virtual Reality Theatre
Swinburne's Centre for Astrophysics and Supercomputing is located in the AR building of the Hawthorn campus (flashing red on the map below). The Virtual Reality theatre is located on the ground floor of this building in room AR104. We will meet in the foyer outside this room, which is accessible via the tunnel connecting to the railway side of the AR Building.
It is best if you arrive at Swinburne 10 minutes before the scheduled start of your AstroTour. We like to start our sessions on time, as there may be other AstroTour bookings after your own. It is not always safe to let you in once the AstroTour has commenced.
Download a complete Swinburne Hawthorn Campus map (pdf).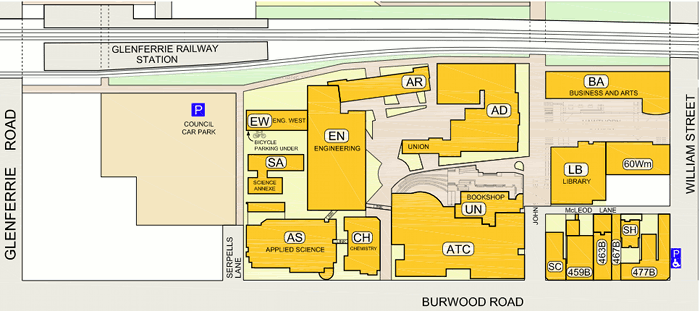 Swinburne is easily accessible by public transport, located right next to Glenferrie Railway Station. Number 16 tram services this stop.